ADVOCACY
TIA is at the center of high-tech connectivity. We represent manufacturers and suppliers that are leading the way in innovation by bringing to market next-generation networks, products and services. We are industry advocates, leading the conversations that help expand global investment opportunities and encourage innovation throughout the entire value chain.
TIA's influence at the policy level is instrumental in these efforts as well. For more than 90 years, TIA's government affairs team has led our association's advocacy efforts. This comes through in-depth analysis of pending regulations and legislation, the development of strong relationships and representation of the interests of members and industry stakeholders alike.
By engaging with policymakers on both sides of the aisle in Congress and with independent federal agencies like the Federal Communications Commission, TIA is in a unique position to drive change. We advocate for policies that encourage innovation and investment in network infrastructure, maintain open markets around the world, and deliver wide societal benefits.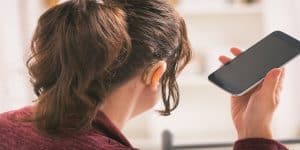 Advancing access to next-generation technologies facilitates life-changing opportunities for people with sensory and age-related limitations.